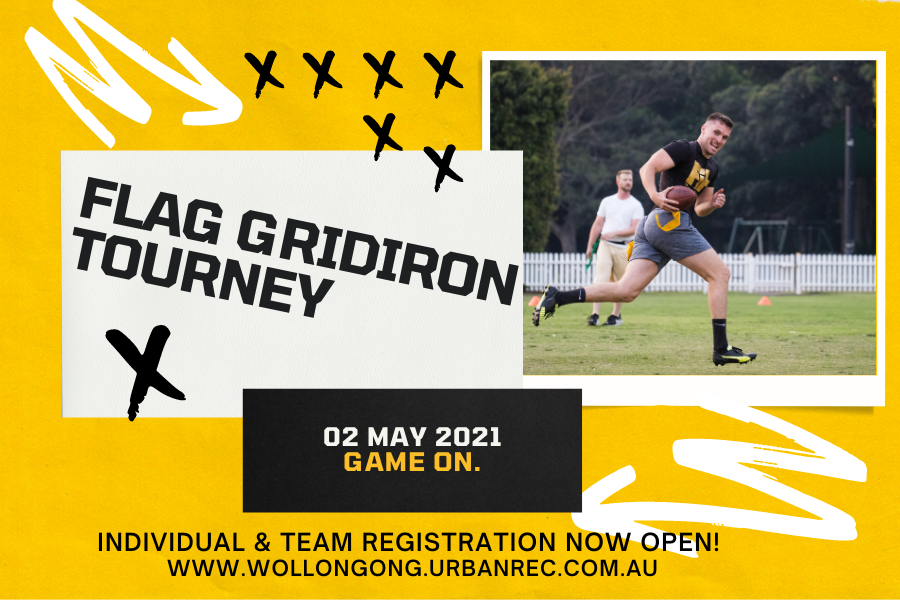 Flag Gridiron Tournament - GONG style!
NFL fan? college football? madden? or maybe just sportsbet?
Whether you're an American Football (Gridiron to all you Aussies) fan or never heard of it, we invite you to experience a Flag Gridiron tournament – Urban Rec style!
Urban Rec in Wollongong is hosting its 1st first ever tournament, and we would LOVE to send some Canberra representation to support! If you're a Flag Gridiron team that is curious how you stack up against teams from other Urban Rec leagues or you've never played before and are looking for a fun little day trip (or weekend getaway) and wanna do some ACTIVE. SOCIAL. FUN. at the same time, join the tourney!
With team ($200) or individual ($25) registration available, we'd love to see you or your team there!
CLICK THROUGH TO THE GONG SITE TO REGISTER AS A TEAM OR INDIVIDUAL.

WHAT To expect:
Round robin tournament with playoff brackets
Intermediate & recreational skill level divisions
Toe-tapping music
Positive vibes
Post tourney celly at the pub
Stellar Event Hosts with first-hand experience in the world of Gridiron here in Australia
Prizes
Fun times
If you love the idea of (1) playing flag gridiron; (2) meeting new friends; (3) trying something new; or all of the above, this is for you! Can't wait to see you in the GONG!
Click through to our Wollongong site to register!
Learn More